Quickfencer – Solutions for all your fencing needs
A New Generation of Quickfencers
The next generation of Quickfencers have all the points of original standard 80, but now tie off to metal or concrete posts.
What is Quickfencer?
Quickfencer is a new concept for the unrolling and tensioning of wire fencing. This machine will save you time and money when erecting new fencing, making your job easier and safer. It is versatile and can be mounted on a tractor via a three point linkage, a front mounting, on a telescopic arm or the blade of a digger.
Faster  – Tighter – Easier – Safer
Saving You Time and Saving you Money
To save even more time the machine can hold 2 x 500m rolls, up to 7 barb wire attachments and multiple plain wires. The Quickfencer fencing machine is ideal for the erection of any type of fencing; stock fencing, ranch fencing, cattle fencing, sheep fencing, horse fencing and deer fencing.
Quickfencer Works with Fencing Companies
Quickfencer works closely with Tornado Wire Ltd, Hampton Steel & Wire and Uniwire to develop wire products for Quickfencer machines that work flawlessly and enhance the speed &  safety of the fencing process.
Contact Quickfencer
UK
johnquickfencer@yahoo.co.uk
07966285240
---
USA
www.quickfencerusa.com
1 715-203-0075
hello@quickfencerusa.com
---
NZ & Australia
Liam O'Dowd
0064 (0) 68565571
mears_9@live.co.uk
Sophie Gathrcole
0064 (0) 68565571
lbhammersltd@icloud.com
---
Netherlands
www.afrastering.nl
(0341) 35 05 23
wijncoop@afrastering.nl
---
France
franceovi.fr
0609798258 or 0299005805
Anthony.pouplin@franceovi.fr
High-performance post driver for fencing jobs, road signs, farming, forestry,...
Find out more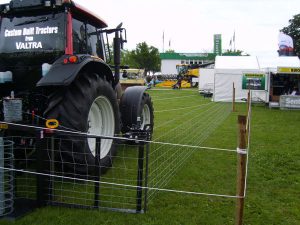 This fits on the Standard Quickfencer arm and is capable...
Find out more
The attachment is capable of working in both directions. This...
Find out more
An inexpensive attachment which can unroll 6 rolls of plain...
Find out more