Quickfencer - Solutions for all your fencing needs
A New Generation of Quickfencers
The next generation of Quickfencers have all the points of original standard 80, but now tie off to metal or concrete posts. 
What is Quickfencer?
Quickfencer is a new concept for the unrolling and tensioning of wire fencing. This machine will save you time and money when erecting new fencing, making your job easier and safer. It is versatile and can be mounted on a tractor via a three point linkage, a front mounting, on a telescopic arm or the blade of a digger.
Faster  – Tighter – Easier – Safer
Saving You Time and Saving you Money
To save even more time the machine can hold 2 x 500m rolls, up to 7 barb wire attachments and multiple plain wires. The Quickfencer fencing machine is ideal for the erection of any type of fencing; stock fencing, ranch fencing, cattle fencing, sheep fencing, horse fencing and deer fencing.
Quickfencer Works with Fencing Companies
Quickfencer works closely with Tornado Wire Ltd, Hampton Steel & Wire and Uniwire to develop wire products for Quickfencer machines that work flawlessly and enhance the speed &  safety of the fencing process.
The new Quickfencer Farmer is a very inexpensive 80cm machine with tie off facilities and can work on either side of the tractor, as shown in the pictures has the rolling up machine and the hoist on it which can be added as optional extras.
Find out more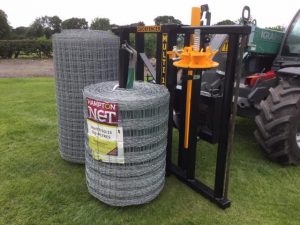 The multi 125 works well with all heights of netting up to its 125cm maximum. It is a perfect partner for the 4 or 5 strand Barbed Wire Dispenser attachment.
Find out more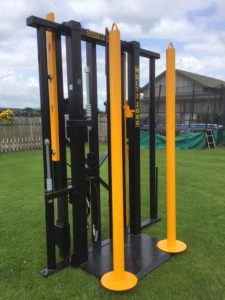 The new Multi 2000 can errect any height of wire up to 3 meters, down to a single strand. It comes with the tilt mechanism and a top link as standard. Both sides of the machine have gripping tube with a 2mt + 125cm clamp.
Find out more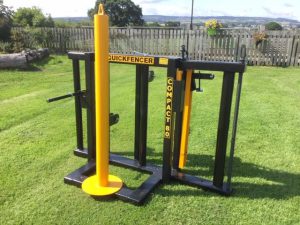 The newly updated Quickfencer Compact is designed specifically for small tractors and is not suitable for any tractor of 70hp 4WD and above.
Find out more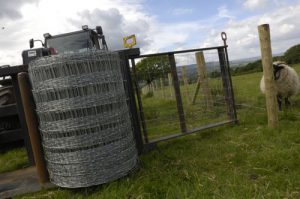 This machine is now superseeded by the Farmer 80 and is only available for special order.
Find out more
24 litre, heavy duty 12V air compressor unit with 8 bar cut out and direct battery connection.
Find out more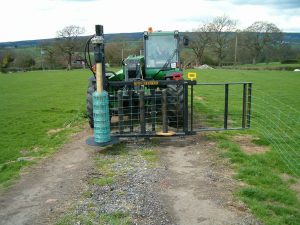 This is our Re-Rolling Machine for re-rolling wire which can be used again and can re-roll up to 400MT on one sleeve.
Find out more
High-performance post driver for fencing jobs, road signs, farming, forestry, vineyards – for any driving job.
Find out more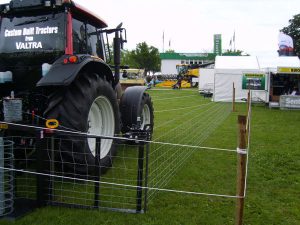 This fits on the Standard Quickfencer arm and is capable of paying out netting and one strand of barbed wire at the same time.
Find out more
The attachment is capable of working in both directions. This is a very popular option and can be fitted to your existing machine.
Find out more
An inexpensive attachment which can unroll 6 rolls of plain wire semi tensioned at the same time.
Find out more
This air powered staple gun is light and strong and has a high work rate. It is the only gun on the market that takes a 40mm staple
Find out more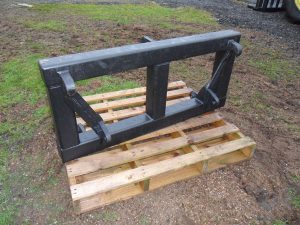 A head Stock with 3 point linkage on one side which attaches to the Quickfencer and a choice of either loader or telehandler bracket at the other.
Find out more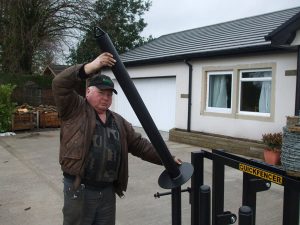 The wire sleeves are designed to make the handling of all types of large rolls of wire easier and safer.
Find out more
A simple tool which fits in your cordless drill and makes a fast and economical way of joining rolls together
Find out more